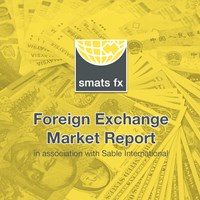 SMATS FX is proud to provide our weekly analysis of currency markets and exchange rates.



USD
Last week we had US Nonfarm Payroll data that has beat expectations for the first time in two months, this improvement of employment figures saw the number of jobs added increase by 850k compared to the 700k expected. Surprisingly following this increase we saw the USD weaken drastically, whereas in previous months when it missed the expected target, the USD also dropped.

This week starts off slow with many markets closed due to an extension of the US 4th of July holiday. Furthermore, in the coming week, we don't have much to look out for apart from the FOMC minutes on Wednesday. Here we will gain some indication of the US Fed's plans going forward, especially with the recent higher inflation as well as the improved employment figures.
EUR
Volatility remained the main market characteristic in the past week. For most of the week, we saw the EUR/GBP pair swing within the range of 0.857 – 0.859. This changed on Thursday in anticipation of manufacturing PMI, inflation, and US NFP data. The pair then broke the 0.857 psychological barrier and closed at 0.8611 on Thursday. Friday then saw the currency pair swing between 0.856 and 0.857.

The cause of most of last week's volatility was the oscillation between the resurgence of Coronavirus fears and continued positive economic data from the EEA. On Tuesday, an increase in the Delta variant was reported. This renewed interest in the EEA Coronavirus restrictions (which is gradually being eased). We also saw economic sentiment increased to a 21 year high and manufacturing increase at the highest pace on record on Wednesday.

The ECB has continued to reiterate their belief that higher inflation is transitory and stated that this should start going down during 2023. A stronger USD has also pushed the EUR down slightly as NFP data came out higher than expected on Friday. Going forward, we may see a retraction of risk sentiment, especially as the Delta variant gains pace in Europe and as economies start to pick up (especially in G7 countries) as this may start discussions on tapering in the near future.
GBP
Last week, The pound made gains against most major currencies, except for the USD and CAD. Risk-off flows seem to have supported the developed market currencies, with sterling moving against the Euro, as well as Aussie and Kiwi dollars. Nevertheless, GBP/USD fell by 0.4% during the weeks' trade. After kicking off the week at 1.832 and touching lows of 1.3732, the GBP/USD pair experienced a partial correction and closed the week at 1.3820.

Economic data from the U.K indicates that GDP growth declined by 1.6% in Q1, after the previous quarter growth of 1.3%. Furthermore, the countries' current account deficit narrowed from -£26.3B to -£12.8B. Manufacturing PMI fell to 63.9 in June, from 65.6 in May.

This week, Balance of Trade for May will be released, after a trade deficit reading of -£0.9 billion in April. Services PMI is due for June, after a reported 62.9 figure for the previous month. Industrial Production Is also due, after a 1.3% decline in April
ZAR
The Rand ended last week on a high note with the dollar dropping from its three-month high. Being a commodity-linked currency, the ZAR refuses to budge off and continues to trade in a narrow band while gold prices fail to fluctuate.

The South African economy appears to be struggling to bounce back, amidst the ebb and flows of recurring lockdowns and alcohol bans The administration of vaccines allows for a glimmer of hope, albeit small.
AUD
The Aussie dollar was largely in red last week, as risk-off flows led investors towards more developed markets. After opening the week at 1.830, GBP/AUD rose to a weekly top of 1.849, before closing the week 0.40% higher, around the 1.836 level.

Australia's Trade Surplus rose from 8.157B in April, to 9.681 in May. Furthermore, Manufacturing PMI came in at 58.6 in June, down from 60.4 in the previous month.

Retail Sales are due for May, this week, after a 0.1% jump in the previous month. Service PMI for June will be released, after last month's reading of 58.0. The Reserve Bank of Australia will also be releasing its interest rate decision, which is expected to remain at 0.1%.
NZD
New Zealand's new building permits data for May was released on Thursday and dropped for the first time since February. May resulted in 3939 consents issued which is 2.8% less than April's 4052 consents.

We can expect the NZIER Business confidence to be released tomorrow. The index is expected to drop by 7% for the second quarter. We can also expect the NZIER Capacity Utilization data for the second quarter to be released.

On Wednesday, the preliminary ANZ Business Outlook Index for July is expected to drop by 1%. With a global resurgence of covid variants underway, we can expect the global sentiment to test NZD forex pairs.
HKD, SGD, and AED
Last Week, Hong Kong released its most recent Balance of Trade and Retail Sales data. The trade deficit in Honk Kong narrowed during May, from H$31.8B to H$25.5, while Retail Sales advanced by 7.8%

Last week, Singapore PPI increased by 18.1% YoY in May, adding to the 17.8% increase in April. This week, Singapore's Retail Sales are due to be released and are expected to rise in May, after April's -1.3% reading.

Over in the UAE, the Inflation Rate for April came in at -0.54%, after deflation of 1.07% in March. Not much is on the data front for the Dirham, which is likely to remain responsive to the US dollar movement.


Transfer your money internationally with ease at our special VIP rates at SMATS FX:  http://www.smats.net/currency/