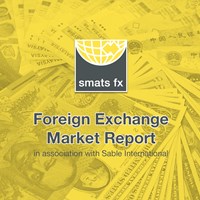 SMATS FX is proud to provide our weekly analysis of currency markets and exchange rates.
GENERAL

As the world and economy grapples with the COVID-19 pandemic, data reports are having a subdued impact on the currencies. Market watchers should be focused on COVID-19 related updates in addition to any stimulus efforts that can impact risk-taking. The major central banks are shaking up the market with major interest rate cuts and fiscal spending to aid the economy throughout the pandemic.

USD

The US Dollar struggled at the tail-end of last week as it overtook both Italy and China in COVID-19 cases, as of writing this the US has 135 700 active cases. The USD has weakened on the back of a stock, commodity and bond market meltdown as invested moved towards cash. This week, the of trade deficit which is due out on Thursday is likely to show a contraction to US$-39 B and we also have Non-Farm Payrolls out on Friday, we expect a loss of 150 000 jobs from the US economy after gaining 273 000 in February.

Influences on HKD, SGD & AED

Singapore are set to make their monetary policy statement on Monday which could impact the markets however for our exotic currencies it will be more focused on the USA and how they can combat the virus as their active cases figure begins to climb far above any other country. Singapore will also be releasing their retail sales numbers on Friday which looks like to decline following the COVID-19 scares. Not much out of the UAE or Hong Kong so domestic Coronavirus cases and USD strength will be the major driving force behinds those currencies.

AUD

The Aussie Dollar grew stronger on the back of risk appetite last week and it will have some lower-tier economic data to maintain its gains this week. The AIG manufacturing index is due out on Tuesday, it is expected to drop from 45.4 to 44.3, then on Wednesday, the Reserve Bank of Australia will be releasing their meeting minutes which could provide some clues as to other stimulus options for Australia. As China begin to recover from COVID-19, the first indicators of the economic health should be watched closes as they release their PMI numbers throughout this week.

NZD

A week US Dollar led to the Kiwi Dollar strength but this week it will be down to market sentiment for the Kiwi Dollar to maintain its strength. ANZ business confidence fell by 6 points in February and market analysts expect to see another 4-point drop in March to see the index at -24.1. We can expect the USD to drive the NZD as the Non-Farm Payrolls are likely to have a big impact on the markets and the US economy in general.

EUR

It was a topsy-turvy week for the Euro last week as counter-currency action and COVID-19 updates shook the markets. In a week short of data, the flash CPI reports out of the major European countries will cause some movements in the markets. On Monday, the German preliminary CPI is expected to dip from 0.4% to 0.0% for March while France are likely to show a 0.4% decline as well. The headline figure for the Eurozone is likely to drop from 1.2% to 0.8% while the core figure is expected to fall to 1.1% from 1.2%.

GBP

The Pound Sterling had a great week last week as managed to shake off some less-than-average data reports. On Friday Prime Minister Boris Johnson and his Health Secretary Matt Hancock both came forward with a positive test for Coronavirus, but it looks like the British government will be executing a plan to combat the fight against the pandemic. Ratings agency Fitch decided to downgrade the UK one notch from AA to AA- following the significant increase in fiscal spending to combat the virus. A couple of medium-tier reports are out this week starting on Tuesday, we can expect to see the current account deficit narrow from £15.9 B to £7.9 B while final PMI readings are out on Friday. Without any major catalysts this week, the Pound will be moving in line with COVID-19 updates.
Transfer your money internationally with ease at our special VIP rates at SMATS FX: http://www.smats.net/currency/