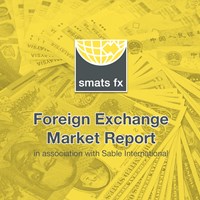 SMATS FX is proud to provide our weekly analysis of currency markets and exchange rates.



USD

Despite the poor economic data out of the US and Federal Reserve officials pushing for further stimulus, the US Dollar made gains as risk sentiment turned and their counter-currencies took hits. With a presidential debate and GDP growth rate on Wednesday, it looks like it will be a volatile week for the USD. The GDP is expected to have contracted by 33% in the 2nd quarter as COVID-19 cases continue to rise. On Thursday, personal spending is expected to increase by 0.8% for August and personal income is likely to decrease by 2%, showing the current disparity in the economy. Finally on Friday, the non-farm payrolls is expected to move the market as always, market experts expect that there will be 915 000 jobs added to the US market in September, bringing the unemployment rate to 8.3%, from 8.4% in August.

 

Influences on HKD, SGD & AED

Our exotic currencies are flying along side the Greenback as the investors flee from riskier assets and flood the safe havens. Hong Kong will be releasing their retail sales for August on Wednesday; it is expected to fall by 11%. The UAE will be releasing their inflation rate on Thursday, it is expected to fall by 1.1% year-on-year. We can expect the USD to continue to drive our exotic currencies this week in what will be an interesting week in the forex markets.

AUD

Pandemic fears, negative comments from the Reserve Bank and worse-than-expected economic updates made for an ugly week for the Aussie Dollar. On Friday Australia will be releasing their retail sales for August, which is expected to decline by 4.2% after growing by 3.2% in July. With no major data on tap for the Aussies, traders will likely focus on the overall market sentiment. Chinese PMI numbers are expected to have an impact on the AUD pairs as the Asian powerhouse is the biggest trading partner of Australia, the official manufacturing PMI is expected to climb from 51.0 to 51.4, the services figure has been forecast to fall from 55.2 to 54.9 and the Caixin PMI is likely to rise to 53.4 from 53.1.

NZD

The Kiwi Dollar took a big hit last week as souring risk sentiment and rising pandemic fears causes the Reserve Bank of New Zealand to signal once more for a potential move to negative interest rates. ANZ business confidence is due out on Wednesday which is expected to improve from -41.8 to -40.5. A lack of top tier reports out of New Zealand means that the Kiwi Dollar traders will have to take cues from their counterparts, like China who are set to release a batch of PMI numbers on Wednesday. The official manufacturing PMI is expected to climb from 51.0 to 51.4, the services figure has been forecast to fall from 55.2 to 54.9 and the Caixin PMI is likely to rise to 53.4 from 53.1.

EUR

The Euro ended up as a net loser last week despite broad sentiment being negative throughout the week, COVID-19 cases and increasing odds of lockdowns returning to Europe dragged the European currency down. Second wave fears are shaking up the markets at the moment with Lagarde set to speak at the ECON Committee on Monday and the ECB's Watchers Conference on Wednesday, she is set to communicate how the Central Bank will combat a second wave. Some bigger releases from Germany include their retail sales which is expected to jump from -0.9% to 0.5% on Wednesday, later in the day, their unemployment change is expected to fall by 12 000. Eurozone unemployment rate is expected to climb from 7.9% to 8.2% on Friday while the PPI is expected to be printed at -2.7%.

GBP

The Pound was dragged down by negative risk sentiment and growing concerns of another batch of restrictions and lockdowns coming to the UK. Fortunately for the GBP, progress with Brexit and positive economic updates allowed the Pound to claw back some of its losses in the second half of the week. On Wednesday, Britain will be releasing their GDP growth rate for the 2nd quarter, it is expected that the economy contracted by 20.4%, should the actual figure miss expectations we can expect an intraday movement in GBP pairs. Brexit talks and counter-currency flows are likely to drive Pound pairs as eyes move towards the US on Friday with the monthly non-farm payrolls expected to shake the market as usual.
 Transfer your money internationally with ease at our special VIP rates at SMATS FX: http://www.smats.net/currency/