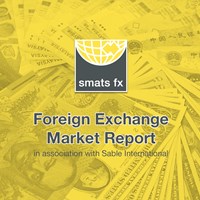 SMATS FX is proud to provide our weekly analysis of currency markets and exchange rates.


USD

The USD struggled last week as Coronavirus cases continued to rise, economic data was negative, and the much-needed stimulus deal remains uncertain. A few big catalysts out of the US this week will hopefully keep the USD from sinking any further. The June durable goods order is due out on Monday, expectations are that we are going to see a rise of 5%. The most important driver of the week will be the Fed interest rate decision on Wednesday, no change is expected but Federal Reserve members could be giving hints as to how the US is planning to combat the virus. The GDP growth rate advance for the 2nd quarter is forecast to show a staggering 33% decline when it is released on Thursday.

Influences on HKD, SGD & AED

This week our exotic currencies are relatively quiet. The Dirham, as usual will be taking cues from the USD as it is low on data reports. Singapore are expecting their unemployment rate to hold steady at 2.4% on Wednesday. More importantly they expect an increase from -56 to -42 for their 2nd quarter business confidence, this should boost the strength of the SGD. Hong Kong will be releasing their GDP growth rate on Wednesday, there is an expected decline of 0.5% for the 2nd quarter. Analysts expect the June retail sales for Hong Kong to decline by 29% for June compared to June last year.

AUD

The Aussie Dollar had an extremely strong start the week following Tuesday's RBA events, however it all turned around towards the end of the week as risk sentiment flipped. Australia's quarterly CPI report is due out on Wednesday this week, the headline figure has been slated to come in at -2.1% (from 0.3%) and the annual reading is expected to read -0.6% for the second quarter of the year.

NZD

Without any major catalysts last week, the New Zealand Dollar had a net negative performance that was driven by counter-currency flows and global risk sentiment. ANZ business confidence is the only real data report of interest out of New Zealand this week, analysts expect an improvement from -34.4 to -31 for July when it is released during Thursday's Asian session. In a week that is short on major data reports, the NZD will be driven by global risk trends.

EUR

Global risk sentiment and the EU recovery fund deal pushed the Euro higher as consumer confidence and PMI numbers help buoy the European currency. Mid-tier Eurozone data will have to be the driving force behind the Euro this week. Spanish unemployment rate is likely to climb from 14.4% to 16.7% while the German IFO business climate has been slated to improve from 86.2 to 89.2. Euro pairs will be impacted by a host of reports out on Friday.

French flash GDP: Expected to see a contraction of 15.2% for the 2nd quarter.
German retail sales: 3.0% year-on-year decline.
French consumer spending: Forecast to show a 6.9% increase for June.
Euro zone flash CPI: Headline figure is likely to show 0.3% for the headline figure and 0.8% for the core figure.

GBP

An up and down week for the British Pound started strong but took a big hit as Brexit uncertainty arouse again. Fortunately, mostly positive economic data helped the GBP rise towards the end of the week to finish in the green. This week, Brexit updates are likely to take centre stage in the absence of any major data report. With talks of the trade deal hitting the wall it could be a topsy-turvy week for the British Pound once again.
Transfer your money internationally with ease at our special VIP rates at SMATS FX: http://www.smats.net/currency/