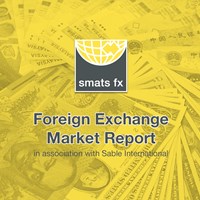 SMATS FX is proud to provide our weekly analysis of currency markets and exchange rates.
SMATS FX weekly market report: Monday 25 November 2019
USD

The US Dollar saw some strength at the back end of last week as the Dollar Index gained for the fourth consecutive day, this week the US Dollar will be driven by economic data releases and developments in the US-China trade war. On Wednesday, the US will be releasing their 3rd quarter GDP estimate, after hitting 2% last quarter, we expect the forecast to have slowed down to 1.9%. At the same time the personal income and spending figures are both forecast to have increased by 0.2% for October. Throughout the week some lower-tier US reports are going to be sprinkled out and traders should keep their eyes out for any that miss forecasts as they are most likely to move the markets.

 

Influences on HKD, SGD & AED

This week the Singapore Dollar is releasing their inflation data for October, we saw the core figure come in at 0.6% on Monday while the headline figure came in at 0.4%. Hong Kong are expected to see their trade balance deficit widen to HK$-48B from HK$-31.5B on Tuesday. The Dirham is likely to be moved by the US Dollar in the absence of any domestic reports or news.

AUD

The Aussie Dollar struggled last week after from an unexpected Reserve Bank of Australia meeting minutes and weak global sentiment. This week RBA members take to the floor where Guy Debelle and Philip Lowe speak on Monday and Tuesday respectively. After the meeting minutes showed that there was serious consideration for another rate cut, we should be listening out for any hints of a rate cut in the months to come. On Thursday, the private capital expenditure figure is forecast to drop by a further 0.2% for the third quarter.

NZD

The Kiwi Dollar had a relatively good week last week, rising against its counterparts. This week New Zealand will be releasing their quarterly retail sales for the 3rd quarter of the year we expect the core figure to improve by 0.3% quarter on quarter to 0.6% and the headline figure is expected to come in at 0.5%. Then on Tuesday, we expect New Zealand's balance of trade figure to come in at a deficit of NZ$1 100M after showing NZ$-1 242M for September.

EUR

This week Germany will be releasing their Ifo business climate on Monday morning, it is a leading indicator of economic health in Europe's biggest economy. It is a survey of 7000 businesses, and we expect an improvement from 94.6 to 94.9. Then on Thursday, Germany will be releasing their preliminary CPI, after 3 out of the last 5 readings have been stronger than expected, we shouldn't be shocked if the November reading comes in above the expected 0.7% decline. Finally, on Friday, the Eurozone's flash CPI figure is forecast to advance from 0.7% to 0.8% while the core reading is likely to rise to 1.2% from 1.1%.

GBP

The British Pound has seen some turbulent times in the last few months and this week shouldn't be any different despite the lack of domestic reports this week. The main driver will be opinion polls as they are consistently showing that the Conservative party leads the Labour. The increasingly possibility of a majority suggests that a 'no deal' exit could be avoided.
Transfer your money internationally with ease at our special VIP rates at SMATS FX: http://www.smats.net/currency/