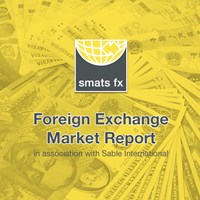 SMATS FX is proud to provide our weekly analysis of currency markets and exchange rates.
USD

The US Dollar will be hoping to keep up the gains as it had seen its strongest week against the Pound since the financial crisis. Data-wise, PMI numbers are due out on Tuesday as the manufacturing figure is likely to fall into contraction territory as it has been slated to drop from 50.7 to 42.0 while the services figure is likely to drop to 40.0 from 49.4. February's durable goods orders is next up on Wednesday with expectations of another decline from -0.2% to 0.7% month/on/month. Thursday sees the GDP growth rate for the final quarter of last year and analysts are expecting it remain steady at 2.1%.

Influences on HKD, SGD & AED

This week we have a ton of data reports coming out of Hong Kong and Singapore, the former will be releasing their inflation rate news on Monday, expectations are that it will come in at 2% for February. Then on Thursday, Hong Kong will be releasing their trade data, the trade deficit is expected to widen to HK$-35 B from HK$-30.6 B. Singapore will also be releasing their inflation rate figure on Monday, forecasts show a drop from 0.8% to 0.4% while on Friday we can expect to see both the export and import prices for Singapore drop.

AUD

The Aussie Dollar took a massive hit last week after a big move from the Reserve Bank of Australia to cut interest rates by 100 basis-points, leaving them at an all-time low of 0.25%. Keeping in tune with this week's theme, PMI numbers are not looking too good, Monday sees the services PMI drop into a contraction from 50.6 to 48.4 while the manufacturing figure is somehow edged higher to 49.8 from 49.6. Chinese industrial profits which are due to come out on Friday could have a small impact on the AUD rate due to the close trade links between the two countries.

NZD

New Zealand will be hoping that its trade data can turn things around for its local currency as the NZD struggles on the back of COVID-19 scares. Analysts expect the trade data to come in at NZ$550 M for February. Most of the Kiwi Dollar's action this week will be based off of PMI reports from other major economies as well as any COVID-19 updates.

EUR

The Euro gained throughout last week thanks to some risk-off sentiment as traders were overwhelmed by Coronavirus updates. We have PMI readings on the card this week as the Eurozone struggles across the board with COVID-19 related shutdowns. French manufacturing PMI is slated to fall from 52.5 to 39.6 while their services figure is likely to drop from 49.8 to 39.4. It doesn't look any better for Germany as their manufacturing figure is set to tumble to 40.1 from 48.0 while the services figure is likely to drop to 43.0 from 52.5. As a whole, the Eurozone's struggles are highlighted by the expected data, services is likely to tumble to 40.0 from 52.6 and the manufacturing PMI is expected to drop to 40.1 from 49.2.

GBP

The Pound Sterling took a hit last week on the back of a slow response from the UK government concerning the ongoing COVID-19 pandemic. This week there are multiple data reports that can push the Pound higher. First up on Tuesday, the flash PMI readings are expecting to drop drastically as a result of the pandemic, the manufacturing PMI has been slated to drop to 45.1 from 51.7 and the services figure has been forecast to drop to 45.0 from 53.2. On Wednesday, the UK inflation data is set to be released, the headline CPI is likely to fall to 1.6% from 1.8% while the core figure is expected to dip from 1.6% to 1.5%. Finally, on Thursday, the Bank of England will be making another interest rate decision, but after an emergency cut to 0.1% earlier in the month, no changes are expected.
Transfer your money internationally with ease at our special VIP rates at SMATS FX: http://www.smats.net/currency/