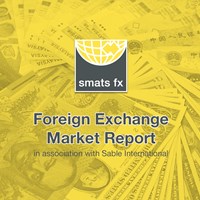 SMATS FX is proud to provide our weekly analysis of currency markets and exchange rates.
USD

The USD found itself amongst the bigger gainers at the end of last week thanks to global risk sentiment and a better than expected retail sales figure. The most important US data report will be coming out on Thursday with the release of the final GDP growth rate for the 1st quarter of the year, a decline of 5.0% is expected but this has already been priced into the markets and we should only really see a big market move if the figure checks in higher or lower than the forecasted figure. At the same time, the May durable goods orders are likely to have shot up by 8.5%. Friday sees the US personal spending and income for May released, the former has been forecast to increase by 9.5% while the latter has been dubbed to fall by 5.6%.

Influences on HKD, SGD & AED

Our exotic currencies have been benefiting from USD Dollar strength as well as an increase in risk sentiment across the globe. Hong Kong are set to release their current account for the 1st quarter on Monday, it is expected to check in at HK$15 B, at the same time the inflation rate is set to increase from 1.9% to 2.0%. Singapore will be releasing their inflation data on Tuesday morning, the core figure is likely to check in at -0.5%.

AUD

The Aussie Dollar had a mixed week last week as it was negatively impacted by global risk sentiment and some weaker-than-expected data. In the absence of top-tier data reports, the Aussie Dollar will likely take cues from risk sentiment. The markit PMI numbers are due out during Tuesday's Asian session, the manufacturing figure is expected to inch up to 44.1 from 42.8 while the services figure has been forecast to show an improvement from 19.5 to 25.5 for April. Traders should be wary of this data release as a whole host of data misses from Australia have caused some risk aversion. Any China-Australia and US-Sino trade updates should influence the demand of the Australian Dollar this week.

NZD

A string of negative economic updates, COVID-19 headlines and some pessimistic comments from some government officials led the NZD to weaken throughout last week. The biggest driver this week will come on Wednesday when the Reserve Bank of New Zealand's statement, they decided to keep their rates unchanged in May but doubled their asset purchases program. Officials have hinted at negative interest rates being an option but improved economic prospects mean that analysts expect the rates to remain unchanged. Thursday sees the trade balance for May set to widen to NZ$1.28 B for May.

EUR

Last week the Euro did not see much action as it steadily weakened thanks to global risk sentiment and counter currency action. The third week of the month means we will be seeing flash PMI readings from the larger economies inside the Eurozone. French PMI readings are likely to improved, the services figure from 31.1 to 44.9 while the manufacturing index should increase to 46.1 from 40.6. The German manufacturing PMI has been slated to increase from 36.6 to 41.5 while the services PMI looks set to rise from 32.6 to 41.7. Any reading above 50 indicates industry expansion while any reading lower than 50 signals contraction. The German IFO business index is likely to rise from 79.5 to 85.0 when it is released on Wednesday.

GBP

Weak employment data, increased stimulus from the Bank of England and even more uncertainty surrounding Brexit caused the British Pound to be the net loser of last week. The UK PMI numbers will give us insight as to how the manufacturing and services sectors have fared this month so far, the manufacturing figure is projected to have climbed from 40.7 to 45.2 while the services figure has improved to 39.1 from 29.0, both figures are to be released on Tuesday during the London trading session. CBI realized sales figures are due out on Thursday, analysts have forecast a 15-index point recovery from -50 to -35.
Transfer your money internationally with ease at our special VIP rates at SMATS FX: http://www.smats.net/currency/