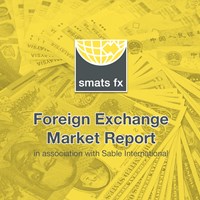 SMATS FX is proud to provide our weekly analysis of currency markets and exchange rates.
USD

The US Dollar closed on Friday with mixed results against major currencies, but it was arguably the winner for last week. On Tuesday, existing home sales for March looks set to drop by 9.7%, showing the weakness in the US housing market right now. On Thursday, the US will be releasing their flash PMI figures, the services PMI is likely to drop from 39.8 to 32.2 while the manufacturing figure looks set to drop from 48.5 to 37.6. Just before the release of the PMI numbers, the initial jobless claims for April looks set to grow by 4 545k. Finally, on Friday, the durable goods orders for March looks set to fall by 12% after increasing by 1.2% from January to February.

Influences on HKD, SGD & AED

On Monday, Hong Kong released their unemployment data, their core figure came in at 4.2% against the forecast of 3.9%, this resulted in a momentary dip in price of the HKD. Hong Kong are also going to be releasing their business confidence for the 2nd quarter, which unsurprisingly is set to decline from -22 to -36. Singapore are set to release some data this week starting on Thursday with their inflation report, their yearly figure looks set to drop from 0.3% to -0.2%. More importantly, Friday sees the release of their unemployment rate which is expected to grow by 0.3% to 2.6%.

AUD

This week the Reserve Bank of Australia's Governor Lowe will be giving a speech after the RBA decided to keep rates at 0.25% on the 7th of this month. His speech will come straight after the release of the meeting minutes and it can give a hint at the immediate plans for the central bank. Australia's PMI readings are due out on Wednesday during the Asian session, we expect the manufacturing PMI to fall from 49.7 to 46.0 while the services PMI is likely to follow suite and slide to 37.0 from 38.5. Aussie traders should continue to focus on COVID-19 updates and news out of major central banks to gauge the global demand trends.

NZD

Without much data out of New Zealand last week, the Kiwi Dollar was vulnerable to risk sentiment, this week there are a few catalysts to move the price of NZD. During the Asian session on Monday the CPI data was released, a forecast of 0.4% missed its target when the actual 1st quarter inflation figure came in at 0.8%. New Zealand's PMI numbers are due out during Tuesday's Asian session, we expect the services PMI to fall from 52.0 to 43.0 while the manufacturing PMI looks set to drop from 53.2 to 46.0.

EUR

This week it is all down to PMI readings for the Eurozone as we get a glimpse into how the European economies are dealing with the COVID-19 outbreak. European currencies were mostly in the red last week after bearish vibes from the European officials. Thursday signals the start of the mass PMI release, remember that readings above 50 are a sign of economic expansion and below 50 show industry contraction. All the below figures are market forecasts for April's figures.

French services PMI: 27.4 to 25.1

French manufacturing PMI: 43.2 to 37.9

German services PMI: 31.7 to 29.0

German manufacturing PMI: 45.4 to 39.0

Eurozone services PMI: 26.4 to 24.9

Eurozone manufacturing PMI: 44.5 to 39.4

Any results that come in weaker than expected could pull the Euro down further. Finally, on Friday, the German Ifo business climate index is likely to fall from 86.1 to 80.0 in April.

GBP

This week we will have a chance to see how the UK economy is progressing through the Coronavirus crisis with a handful of major data reports and some Brexit negotiations with the EU are to drive the Pound Sterling's strength. On Tuesday, we will see the release of the UK jobs data, the claimant count change is forecast to show an increase of 175 000 in joblessness for March while the unemployment rate looks set to remain at 3.9%. On Wednesday we can expect some volatility with the release of the inflation reports, headline CPI is likely to fall to 1.5% from 1.7% while the core figure has been forecast to dip from 1.7% to 1.6% for March. On Thursday, flash PMI readings look set to drop drastically, the manufacturing figure is set to fall from 47.8 to 42.5 in April while the services figure is expected to decline to 29.6 from 34.5 for the same period. The retail sales figures are due out on Friday and we can expect the consumer spending figure to take a 3.8% from -0.3% to -4.2%.
Transfer your money internationally with ease at our special VIP rates at SMATS FX: http://www.smats.net/currency/