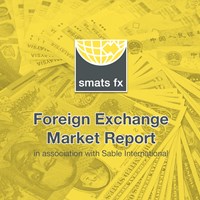 SMATS FX is proud to provide our weekly analysis of currency markets and exchange rates.
USD

The US Dollar has been at the headlines following the US Elections as the Greenback bounces unpredictably. This week, October's retail sales are likely to increase by 0.4% month-on-month as export and import prices are likely to recover by 0.3% each for October. COVID-19 cases are likely to drive the markets this week as well as Donald Trump's willingness to hand over power. Vaccine talks are likely to continue to drive the markets as Pfizer come into some competition with the Coronavirus vaccine.

Influences on HKD, SGD & AED

This week Singapore will be releasing their balance of trade figure for October, analysts expect the surplus to widen from SG$3.04 B to SG$4.1 B, at the same time on Tuesday, their non-oil exports are expected to rise by 4.6% MoM. On Thursday, the United Arab Emirates are releasing their loan growth for September which is expected to fall from 5.5% to 4.0%. Hong Kong will be releasing their inflation rate on Friday, fortunately for them, it is expected to increase to 0.4% in October.

AUD

The Aussie Dollar looked good last week as it rode the wave of market sentiment on the back of successful vaccine talks, the Australian labour numbers are due out  this week with the unemployment rate expected to rise to 7.1% with a net job loss of 35 000 in October. The Reserve Bank of Australia will be releasing its meeting minutes this week after the central bank cut its rates. Philip Lowe is set to make a few statements in the first half of the week while Christopher Kent is set to speak at a symposium on Tuesday, market watchers should listen out for more dovish tones from the Reserve Bank of Australia.

NZD

The Kiwi Dollar has been largely driven by global risk sentiment and counter-currency action for the last few weeks and this week should not be any different with their light data calendar. Quarterly PPI numbers are due out on Tuesday, input prices should rise by 0.3% while output prices should climb by 0.1% however it should not have much of an impact on NZD pairs. COVID-19 headlines will guide risk-taking and overall demand for the higher yielding currencies.

EUR

The Euro was relatively volatile last week as another wave of restrictions runs through Europe. Some lower tier releases are due out for the Eurozone with the current account balance expecting to rise to €19.9 B on Thursday and we expect a drop in consumer confidence on Friday as an expected drop from -16 to -18 shows increased pessimism in Europe. COVID-19 cases are likely to drive the overall demand for the Euro while any Brexit related updates should also push the Euro around this week.

GBP

The Pound managed to shrug off some negative vibes last week after some worse-than-expected data reports. This week we have the inflation report and retail sales as our major reports for the week. Headline inflation is expected to remain at 0.5% while the core figure is likely to stay unchanged at 1.3%. On Friday, the retail sales will be released straight after the second national lockdown, so panic-buying could be assisting the data report despite the expected drop of 0.4% for October. Brexit updates is likely to be on the front page for the rest of the week with negotiations still deadlocked on key issues.
Transfer your money internationally with ease at our special VIP rates at SMATS FX: http://www.smats.net/currency/