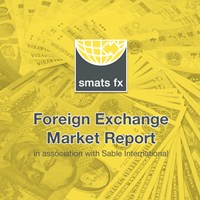 SMATS FX is proud to provide our weekly analysis of currency markets and exchange rates.
USD

The US Dollar had a quiet week last week which finished as a net loser despite better than expected inflation data. The largest global data release this week will be the Federal Reserve's interest rate decision on Wednesday along with their economic projections and press conference that follows. No change is expected for the interest rate decision but watch for commentary coming from the Federal Reserve that are expected to announce a policy of explicit caps for US bond yields. Also on Wednesday, the US retail sales are expected to fall from 1.2% to 1.0% in August which in the current climate any gain is seen as positive to the economy.

Influences on HKD, SGD & AED

This week, Singapore will be releasing their balance of trade figures on Thursday, it is expected to have climbed from SG$3.3 B to SG$3.5 B for August. The second quarter unemployment rate fell rose from 2.4% to 2.8% during the Asian trading session on Monday. Hong Kong will release their unemployment rate for August on Thursday, it is expected to remain at 6.1%. The industrial production for Hong Kong missed the expected decline of 9.5% and came in at -5.1% when it was released on Monday.

AUD

Risk sentiment drove the Australian Dollar in the absence of any significant data reports. Aussie pairs did not see much volatility as they moved in line with risk sentiment and counter-currency flows. It is set to be a busy week for Aussie traders as they are set to print their labour report on Thursday, it is expected that there was a net loss of 40 000 jobs during August and the unemployment rate has been forecast to rise to 7.7%. During Tuesday's Asian session, the Reserve Bank of Australia are set to release their meeting minutes after keeping their interest rates on hold until September. Analysts do not expect anything major to come from the meeting minutes, but the RBA could hint at any possible stimulus increases if needed. China are set to release a whole host of data on Tuesday, AUD traders should stay on their toes during the release of the manufacturing numbers.

NZD

It was a quiet week for the New Zealand Dollar but it ended up as a net loser for the week as risk sentiment remains on the negative side and speculation of negative interest rates continues to keep Kiwi Dollar on its toes. This week, New Zealand will be releasing their quarterly GDP figures, in the 1st quarter, the economy contracted by 1.6% but analysts expect a further contraction of 13.1% for the 2nd quarter. A worse-than-expected release could add pressure on the Reserve Bank of New Zealand to push for negative interest rates. A huge load of data is set to come out of China (one of New Zealand's biggest trading partners) on Tuesday, Kiwi Dollar traders should keep their eyes out for any significant movements from the release of the Chinese data.

EUR

The Euro had a stellar week last week as it benefits from a negative leaning risk environment. The European Euro also gained with the European Central Bank's monetary policy statement and positive remarks made in the press conference that followed. Brexit uncertainty pushed the Euro higher last week and without any major reports this week the Euro is expected to take cues from risk sentiment and counter-currency flows. The ZEW economic sentiment is due out on Tuesday and market experts see a decline from 64.0 to 51.5 for September. Brexit related updates and surprising statements from the Fed can inspire volatility for the Euro along with an increase in risk-averse investing.

GBP

The British Pound was deeply negative last week after it took a hit of the increasing possibility of a no-deal Brexit and pressure was added by the rising number of Coronavirus cases in the UK. Several large data releases out of the UK are set to drive Pound pairs this week along with Brexit related updates. Tuesday sees the release of August's Claimant Count Change, which is expected to decline from 94 400 to 51 000. Then on Wednesday, the yearly inflation rate is set to decline from 1% to 0.2% and the monthly CPI is expected to fall from 0.4% to -0.4%. On Wednesday, the Bank of England are set to make their interest rate decision, we don't expect any movement from the current rate of 0.1% but the MPC meeting minutes could provide some insight into the BOE's plan going forward.
 Transfer your money internationally with ease at our special VIP rates at SMATS FX: http://www.smats.net/currency/