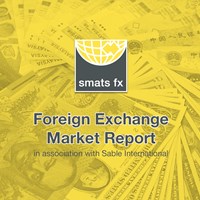 SMATS FX is proud to provide our weekly analysis of currency markets and exchange rates.
US
The United States' most-recent Non-Farm Payrolls Report was released last week. Despite analyst predictions upwards of 450 00, the September NFP report indicated that an underwhelming 194 000 new jobs were added to the US economy over the past month. This reading came in lower than August's 366 000 figure, which also came in lower than expected.

The US Balance of Trade at August also came due last week. America's trade deficit widened by $3 billion over the past month, from $70.3B to $73.3B, exceeding the forecasted uptick of $0.5B.

The Cable (GBP/USD) moved 0.46% higher during the course of last week. The pair opened at 1.3550 on Monday, trading with a topside tilt, and touched a high of 1.3657 before closing off above the 1.3610 level of resistance. Nevertheless, the Dollar Index (DXY) narrowly finished the weekly trade in the green, marking the fifth consecutive week of appreciation for the DXY.

This week, we will see the release of the FOMC Minutes, from the Federal Reserve's most recent monthly meeting, along with Inflation Rate data and JOLTS data. The US Inflation Rate is expected to hold steady at 5.3% (YoY) at September, after inflation rose to a 13-year high of 5.4% in August. Furthermore, JOLTs job openings data is expected to decline towards 10.8 million, after the

number of job openings in the US rose by 749,000 from a month earlier to a new series high of 10.934
UK
Last week, The United Kingdom's PMI figures for September were released. Manufacturing PMI came in at 54.9, up slightly from 54.8 in August, despite a forecasted decline towards 54.1. Similarly, Services PMI moved up marginally, from 55.0 to 55.4, despite the expected fall to 54.6. Construction PMI for September was also released, and fell from 55.2 to 52.6.

This week, we will hear more about the state of the U.K labor market. The Unemployment Rate for August will be released, after the previous month's reading of 4.6%. Septembers Claimant Count Change figure will also come due, and is expected to decline by a further 46 000 claims, after claimant count declined by 58 600 claims in August.

The United Kingdom's Balance of Trade reading at August will also come due. The trade deficit is expected to shrink towards £2.4B, after a deficit of £3.1B was recorded in July.
EUR
This week we saw the EUR/GBP pair fall to its lowest in over three weeks. The pair has been falling for most of the week with higher than usual volatility recorded for the early parts of the week.
The main driver of movement this past week has been inflation fears. The surge in energy prices along with continued supply chain woes has contributed to the high inflation observed in September. This trend is expected to continue for the rest of the year.
Rhetoric from the ECB has remains accommodative to looser monetary policy (continuing to cap the EUR). They have however, mentioned that higher inflation brought on by supply chain problems and the energy crisis may cause some concern if it lasts for too long. This may prompt the ECB to act in the medium to long term.
AUD
Last week, Reserve Bank of Australia submitted their most recent interest rate decision. The RBA kept their cash rate at 0.1%, in line with expectations. Australia's Balance of Trade report also came due. The country's trade surplus widened from A$ 12.650B to A$ 15.077B during the month of August, despite an expected decline towards A$ 10B.

Retail Sales growth data for the month of August was also released last week. Retails sales shrank by 1.7%, furthering the 2.7% contraction in July. Furthermore, Services PMI came in at 45.5 in September, exceeding the forecasted increase to 44.9 after a figure of 42.9 was recorded in August.

This week, Australian employment data will be released. The country's Unemployment Rate for September will come due, and is expected to tick upwards towards 5.2%, after the reading of 4.8% in August. The corresponding Employment Change figure will be also reported, after August revealed a loss of 146 200 jobs. Of these lost jobs, 68 000 were attributable to full-time employment, and 78 200 were part time positions.

Furthermore, the NAB Business Confidence Index for September will be released, and is expected to fall to -8 from a previous reading of -5. Additionally, the Westpac Consumer Confidence reading for October will come due, after the Index increased by 2.0% last month.
NZD
Policymakers in New Zealand have increased the official cash rate by 25 basis points to 0.5% during the October meeting. This was the first time interest rates in New Zealand have increased since June 2014. Policymakers have indicated that the decision was appropriate in order to maintain low inflation while supporting maximum employment.
The Kiwi weakened by about 0.65% against the pound and by about 0.2% against the greenback last week, currently trading at 1.964 GBP/NZD and 1.44 USD/NZD.
Later this week, on Thursday, we can expect the release of the Business NZ Performance of Manufacturing Index pertaining to September.
ZAR
Last week was rather light on data front, coming out of South Africa. Other than September's Markit PMI number and Foreign Exchange reserves figures, there was no new data released.

GBP/ZAR moved 1.06% higher during the round of trade, last week. The pair closed off at R20.35 on Friday, from an open of R20.16 on Monday. The US dollar and Euro held up better against the Rand, compared with their more vulnerable sterling counterpart. Nevertheless, both USD/ZAR and EUR/ZAR pairs made a move to the upside, appreciating by 0.57% and 0.34%, respectively.

This week, we have Retail Sales data due, along with production figures for Manufacturing, Gold and Mining production. Retail Sales growth is expected to shrink by 2% (MoM) for September, after the previous month saw retail sales decline by 11.2%. On a year-on-year basis, Retail Sales numbers are expected to dip by 0.8%, after 1.3% growth was recorded in July.

Manufacturing Production in South Africa is expected to increase by 7.5% (YoY), in the August report. This will come after the -4.1% reading in the previous month. Gold and Mining Production are also expected to rise on a year-on-year basis, by 10% and 6%, respectively.
Transfer your money internationally with ease at our special VIP rates at SMATS FX:  
http://www.smats.net/currency/