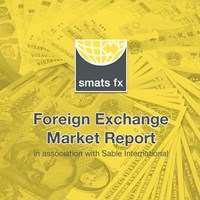 SMATS FX is proud to provide our weekly analysis of currency markets and exchange rates.
USD
Over the past week we have seen the USD generally end off on a stronger note, we saw it weaken against 6 of the top 20 currencies and strengthen against the balance. The most notable strengthening movement was against the ZAR, moving an astronomical 4.19%. It depreciated against the CHF by -0.47%.

The main data event from the past week was the dismal GDP growth for Q3, it was expected to drop from 6.7% to 2.7%, but came in at 2%.

The main focus coming this week is the US Fed interest rate decision and the following press conference – We don't expect any changes but the tone regarding tapering should be closely watched. Friday we have the US nonfarm payrolls data, where an increase in the jobs added is expected to come in 450k under consensus.

The Democrats are moving closer to push through a $1.8 trillion spending bill, this will add some serious capital expenditure on the government side, hopefully propping up their GDP growth.
EUR
This week we saw the EUR/GBP hit a seven-month Low at 0.8399 on Thursday before retracing back to 0.843 on Friday. Some large swings were noted against the USD, moving from 1.168 to 1.153 on Friday. The only gains were seen against emerging market currencies such as the ZAR and Lira as fiscal, political, and monetary policy weights their respective currencies down.

The ECB is sticking to its "inflation is temporary" rhetoric, albeit, recognizing that inflation will be higher for a longer period than initially thought. The biggest drivers remain the energy crisis and supply chain bottlenecks. Investors, however, have noticed a monetary policy divergence between the ECB and the USD Fed. While the ECB focusses on maintaining growth (thereby allowing inflation to "run hotter for longer"), the Fed is more concerned with keeping prices in check. This may exacerbate EUR weakness for the medium to long term.
U.K
Last week was rather light on the data front, coming out of. Mortgage Approvals dipped to 72 600 in September, from 74 500 in the month prior. Additionally, Mortgage Lending rose to £9.5 billion for September, up from £5.3B in August.

Last week, the United Kingdom's Autumn Budget was delivered, by Rishi Sunak and the OBR. Despite an upbeat financial assessment and a GDP growth forecast of 6.5% for 2021, the pound lost its footing in the FX markets, highlighting the underwhelmed investor mood.

This week, the Bank of England will release its' Interest Rate Decision . The BoE is expected to hold their rates at 0.1%. Furthermore, bond-buying is expected to remain at £875B. Markets will be looking closely to see if the BoE hint at the tapering of asset purchases.

Services PMI (October) is scheduled to be released, and is forecast to rise towards 58 after the reading of 55.4 in September. Composite PMI (October) will also come due, and is expected to increase from 54.9 to 56.8.
AUD
The Inflation Rate was reported at 3% on a Year-on-Year basis, declining from the 3.8% reading in Q2. While the result was influenced by the "base effect", Quarter-on-quarter inflation came in at 0.8%, highlighting the effect of price pressure in Q3.

Export & Import price changes were also released last week. Export Prices rose by 6.2% over the third quarter of 20221, undercutting an expected 10% rise, adding to the 13.2% increase in Q2. Import Prices moved up by 5.4% in Q3, adding to the 1.9% rise in Q2. Import prices rose further than the 2.3% market estimate.

This week, Reserve Bank of Australia will release their most recent Interest Rate Decision. The RBA is expected to hold its cash rate at the ultra-low level of 0.1%

Balance of Trade data for the month of September will also come due. Australia's Trade Surplus is expected to narrow towards A$ 10B, after the previous reading of A$ 15.077B. Retail Sales Growth (September) is also scheduled to be released, and is expected to come in at -0.9%, adding to the previous months 1.7% contraction
NZD
Last week, New Zealand's Balance of Trade was released. New Zealand's trade deficit widened to N$ 2,170 million during September, expanding marginally from the N$ 2,139 million deficit recorded in August. Nevertheless, the current trade balance far exceeds the N$ 1,023 million deficit recorded in September of last year. While Exports increased by 9.6% over the past year, Imports rose by 30.50%. Vehicles & Vehicle parts.

The ANZ Business Outlook Index in New Zealand was revised sharply lower to -13.4 in October 2021 from a preliminary reading of -8.6. The latest figure followed September's print of -7.2, amid coronavirus-related uncertainty as well as intense inflation and cost pressures.

This week, the NZ Unemployment Rate & Labor Participation Rate will be released for Q3, along with Q3 Employment Change figures. The Unemployment Rate is forecast to dip from 4% to 3.9%, while the Participation Rate is expected to remain at 70.50%.
ZAR
The South African Rand has depreciated quite drastically the past week, with movements to the downside coming from 17 of the top 20 currencies. The most notable weakness can be seen against the NZD and AUD, coming in at -4.61% and -4.57%.

Risks attributable to the emerging market economy have been driving the ZAR weakness again the major developed market currencies. Rand movements can be partly attributed to the sudden move to stage 4 load shedding, adding another major blow to the economy. Furthermore SA has its local government elections on Monday, which is likely adding to ZAR volatility.

On the data front, PPI figures for September were released last week. PPI came in at 0.9% (MoM), exceeding an expected figure of 0.6%, and added to the 0.8% increase in August. On a yearly basis, PPI was reported at 7.8%. Balance of Trade figures also came due, indicating that the trade surplus shrank from to R42.3B in August to R22.23B in September.

Next week, South Africa's will report October figures for Foreign Exchange Reserves, Total Vehicle Sales, ABSA Manufacturing PMI. The SACCI Business Confidence Index will also come due, along with the Medium-Term Budget Policy Statement.
Transfer your money internationally with ease at our special VIP rates at SMATS FX:  
http://www.smats.net/currency/