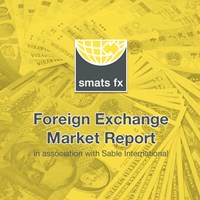 SMATS FX is proud to provide our weekly analysis of currency markets and exchange rates.
USD

The US Dollar struggled throughout last week thanks to gloomy economic updates out of the US and more stimulus from the Federal Reserve. This week, we expect factory orders to drop by 12.5% for March when it is released on Monday. On Tuesday, analysts have forecast the balance of trade deficit to widen to US$-44.2 B from US$-39.9 B. The biggest data report out of the US will be the Non-Farm Payrolls out on Friday, we expect a catastrophic loss of 21 million jobs.

Influences on HKD, SGD & AED

This wee our exotic currencies are going to be releasing some important data, Singapore will be releasing their manufacturing PMI for April which is expected to drop from 45.4 to 44.3 on Monday. Then on Tuesday, retail sales is likely to recover from -8.9% to 1.5% while the markit PMI, which is due out on Wednesday has been forecast to rise to 44 from 33.3 showing great signs of recovery. Hong Kong's markit PMI is likely to tell a different story as analysts have concluded that it will drop from 34.9 to 30.5 while their retail sales will recover from -46.7% to -10.0% YoY. The UAE will be releasing their NBD PMI on Tuesday, we expect the headline figure to clock in at 45.5 from 45.2 in March.

AUD

Risk sentiment drove the Aussie Dollar up early last week, but as global sentiment turned, and the return of Chinese tariffs and weak economic data sent the AUD down in the second half of the week. It is also set to be a busy week for the Aussie with the Reserve Bank of Australia set to make their rate decision and there is also some Chinese data that could swing the Aussies value. Australia are expected to keep interest rates at 0.25% but we should keep our eyes out for any remarks from the RBA about further stimulus. China will be releasing their PMI numbers and trade data on Thursday, which will have an impact on the AUD pairs.

NZD

Mixed results for the Kiwi Dollar made move off both negative and positive updates from New Zealand last week. This week they will be releasing their quarterly labour data report which is set to show a drop in unemployment from 4.2% to 4.0% when it is released during Tuesday's Asian session. On Thursday, the Reserve Bank of New Zealand will be giving their inflation expectations for the upcoming quarter, which could cause the NZD to make some moves. Traders should also keep their eyes out for the Chinese data that is set to be released on Thursday.

EUR

Euro strength was the theme of last week but without any major releases from the Euro-zone this week, the Euro will be taking cues from global announcements and COVID-19 updates across the Europe. Dovish remarks out of the European Central Bank caused no problem for the Euro as it surged throughout the week. The Euro can benefit from a rise in risk aversion and Dollar weakness after Trump sent out some threats to China.

GBP

The British pound finished the week in the green against most major currencies driven by global risk sentiment. The rise from the GBP was rather surprising given the lack of data reports out of the UK last week which also came out more negative than positive. This week, the Bank of England are expected to keep rates unchanged at 0.1% but remarks made on the impact of the virus and lockdown on the economy could also impact the Pound's strength.
Transfer your money internationally with ease at our special VIP rates at SMATS FX: http://www.smats.net/currency/