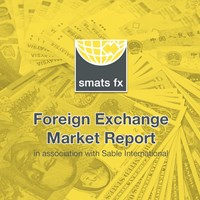 SMATS FX is proud to provide our weekly analysis of currency markets and exchange rates.
SMATS FX weekly market report: Monday 2 December 2019
USD

The US Dollar is in for a volatile week after President Donald Trump signed the Hong Kong Human Rights Act, showing support for the Hong Kong protests which could ignite some fire back into the US-Sino trade war. On Monday, the ISM manufacturing PMI for November is expected to rise to 49.2 after a weak 48.3 in October. Then on Wednesday, the non-manufacturing figure is likely to drop from 54.7 to 54.0, showing slower signs of growth. Thursday sees October's balance of trade figure expected to check in at US$-49 B. Finally, on Friday, November's jobs data is expected show that 180 000 jobs were added to the US market while hourly earnings are likely to remain at 0.2%.

 

Influences on HKD, SGD & AED

Hong Kong are releasing a couple important points of data this week, starting on Monday, their year-on-year retail figure has been slated to come in at -20% for October, which is likely to cause the HKD to weaken somewhat. On Wednesday we expect their market PMI for November to rise to 40.2 from 39.3. The UAE are expected to see their inflation rate for come in at -1% for October, which is far higher than the -2.2% we saw this time last year. The Dirham is likely to strengthen when the Emirates NBD PMI is released on Thursday as we expect to see a rise to 51.5 from 51.1. Singapore just have the one data release this week and it comes in the form of their market PMI data, it is expected to rise to 48 from 47.4 when it is released on Wednesday.

AUD

Aussie Dollar traders are in for a busy week as the Reserve Bank of Australia make their interest rate decision on Tuesday after they decided to keep their interest rates at 0.75% for October, boosting the local currency in doing so. Then we expect to see 0.5% growth in the quarterly GDP for the third quarter with the annualized figure expected to clock in at 1.7% when it is released on Tuesday. Finally, on Thursday, Australia will be releasing their trade balance data and the retail sales figure for October, the latter has been slated to come in at 0.3% while the trade balance has been forecast to read a surplus of A$6.1 B.

NZD

The Kiwi Dollar will likely be taking its movements from market sentiment this week in the absence of any real hard-hitting data reports. Governor Orr is set to speak on 'unconventional monetary policy' on Thursday after the RBNZ decided to keep rates at 1.0% for November. The US-China trade war will continue to have its impact on the NZD and AUD as trade talks start to get heated once more.

EUR

The Euro weakened somewhat throughout last week; this week traders should keep their eyes open for the final PMI readings out of the larger European economies on Monday. France expect to see a rise from 50.7 to 51.6, Italy are expecting their manufacturing PMI to drop to 47.4 after coming in at 47.7 for November, Germany are likely to see a rise to 43.8 from 42.1 and finally the Eurozone as a whole are expected to rise by 0.7 index points to 46.6, all these readings are expected during Monday's London trading session. The Eurozone retail sales are due out on Thursday the 5th shortly after the German factory orders for October.

GBP

Election-related news is likely to drive the British Pound this week due to a lack of top-tier data reports out of the UK. The latest polls see the Labour party on the backfoot, and several unofficial polls suggest a growing lead for Conservatives. On Monday, the final manufacturing PMI data is scheduled to remain unchanged at 48.3 while the final services PMI is also expected to remain unchanged when it is released on Wednesday.
Transfer your money internationally with ease at our special VIP rates at SMATS FX: http://www.smats.net/currency/