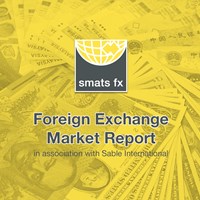 SMATS FX is proud to provide our weekly analysis of currency markets and exchange rates.
SMATS FX weekly market report: Monday 9 December 2019
USD

After the US non-farm payrolls flew high above expectations last week, the US Dollar will be hoping to remain buoyant in what will be an action-packed week in the markets. This week, the Federal Reserve will be announcing its next interest rate decision on Wednesday, no changes are expected. However, before that, November's inflation figures are expected to rise to 2.0% from 1.8%. The US are also set to decide on whether to go ahead with increasing tariffs on imports from China which will impact the US Dollar's strength.

 

Influences on HKD, SGD & AED

This week Singapore will be releasing their unemployment rate for the 3rd quarter on Thursday along with their retail sales shortly after. The unemployment figure has been slated to stick at 2.2% while the retail sales for October are likely to have dropped by 0.7% from September. The United Arab Emirates will be releasing their inflation report on Wednesday, we expect the headline figure to come in at -1% from the -2.2% we saw this time last year. Later that day, it is likely that their interest rate will be kept at 2%. On Thursday, Hong Kong are expected to keep their interest rates steady at 2%.

AUD

Global sentiment and worldwide catalysts to drive the Aussie Dollar this week in the absence of hard-hitting data reports out of Australia. National Australia Bank will be printing their consumer sentiment report on Tuesday, in October, the Aussies saw their business confidence come in at +2 for October and 0 for September. As always, the US-China trade war will be impacting the Aussie Dollar, this week Trump administration will make a decision on the tariffs scheduled for the 15th of month while China have suggested that they are going to be waiving tariffs on US soybeans and pork.

NZD

The New Zealand Dollar saw some unreal gains last week as they topped the forex charts. This week we can look forward to the business NZ manufacturing PMI scheduled for Thursday, after clocking in 52.6 in October, we expect a decline to 52 for November. Kiwi Dollar traders should keep their ears to the ground for any developments in the US-China trade war, UK parliamentary elections on Thursday and the Federal Reserve's economic projections.

EUR

The Euro will be hopeful to turn things around this week after the GBP/EUR rate found a 31-month high late last week. German ZEW economic sentiment is likely to recover to 1.1 from -2.1 as a leading indicator of economic strength, this will push the Euro higher. On Thursday, Lagarde will be making her first ECB announcement but we expect no change to the refinancing rate or the targeted longer-term refinancing operations (TLTRO). The Euro will be looking to take advantage of risk-off anti-dollar movements this week with the next batch of US tariffs to be implemented on Friday.

GBP

The Pound gained across most major currencies last week ahead of this week's general election. The opinion polls show that the Conservative Party is holding a lead around the 10% mark. The Pound, however, may be vulnerable to a downward correction in the lead up to the election as investors take their money and run ahead of the vote. The only meaningful data report this week out of the UK comes in the form of their monthly GDP data on Tuesday. We expect to see an expansion of 0.1% for October to rebound the contraction of 0.1% we saw in September.
Transfer your money internationally with ease at our special VIP rates at SMATS FX: http://www.smats.net/currency/