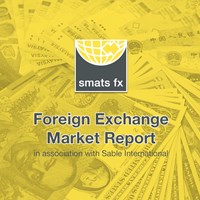 SMATS FX is proud to provide our weekly analysis of currency markets and exchange rates.
USD

Last week the Greenback closed off in the red against most major currencies after a record-high jobless claim saw investors retreat from the so-called 'safe-haven'. This week we will have a look at how the consumer sector has been holding up on Wednesday when March's retail numbers are printed, analysts expect the headline retail sales to drop by up to 6.5% month-on-month.  Then on Thursday, we expect the initial jobless claims to rise by up to 4.5 million. This comes after last week's release showed 16.7 million Americans lost their jobs in the last three weeks alone.

Influences on HKD, SGD & AED

This week, the United Arab Emirates will be releasing their year-on-year inflation rate, which could have an impact on the Dirham, given the lack of data out this week. For February, we expect the headline figure to fall by 1.2%, likely weakening the Dirham. On Friday, Singapore will be releasing their balance of trade figure for March, it is looking good for the them as we expect an expansion to SG$1.8 B from SG$1.09 B. With the rapidly increasing COVID-19 cases in the United States, our exotic currencies need to keep a close eye on the US Dollar.

AUD

The Aussie Dollar surged last week, taking advantage of US Dollar weakness. This week we have Aussie labour reports due on Thursday. The unemployment rate looks set to jump from 5.1% to 5.5% while analysts expect to see a decrease of up to 40 000 jobs in March. Look at this week's section on the Chinese pile of reports due, it is set to have a large impact on the Australian Dollar due to the close trade ties between the two countries. Any large market movers in other major economies, like the US retail sales numbers and oil price, could have a great impact on the high-yielding AUD.

NZD

Along with the Australian Dollar, the New Zealand Dollar was able to benefit from risk rallies last week but without any major reports due, the currency will have to take cues from the overall market sentiment and the data due out of China. Keep an eye on how the US Dollar fairs this week as we can expect the Kiwi Dollar to continue rising on the back of continued USD weakness.

EUR

The Euro had a mixed-run last week as the market mostly reacted to risk sentiment, this week we don't have much in terms of major domestic reports so we can expect the Euro to be extra-sensitive to the action of its counter-parts. Final CPI numbers from France, Germany and the Euro zone are the only releases within Europe this week, the French expect no change at 0.0%. Germany also don't expect a change from their 0.1% and finally, the Euro zone headline figure is likely to come in at 0.7% and the core figure at 1.0% Market watchers have been focusing on COVID-19 updates and any stimulus announcements from local central banks.

GBP

The British Pound had a great week last week as the UK government continues to go ahead as planned with its fight against COVID-19 in the absence of Boris Johnson. The Pound Sterling rose against most counterparts, apart from the Kiwi and Aussie Dollars as risk appetite started to rise. The Bank of England will be releasing a few lower tier reports on Thursday, their credit conditions survey, quarterly bulletin and MPC Tenreyro's speech as set to have a subdued impact on the British currency. With deaths and active cases rising in the UK, market watchers should keep a close eye on their various COVID-19 trackers to keep up with how these progress throughout a week low on data.

China

A whole host of Chinese data is set to be released this week which should have a larger impact than normal thanks to a week light on data. Positive news out of the world's second largest economy should see the Australian and New Zealand Dollars rally. On Tuesday we expect the Chinese trade balance to show a surplus of 175 B CNY. On Friday, we can expect huge volatility in the market during the Asian session as China release their quarterly GDP (expected to drop from 6.0% to -4.1%), fixed assed investment to fall by a further 15.2% and the industrial production numbers could fall by 7% following on from a 13.5% decline in February. Finally, and probably most importantly, the Chinese retail sales are likely to drop by 12.2% year-on-year for March.
Transfer your money internationally with ease at our special VIP rates at SMATS FX: http://www.smats.net/currency/