Australian Investment Bond
AU $10,000,000 Bond Offer
About the issue
For Investors seeking regular, fixed coupons over the medium term.
The Australian Investment Bond (the Bond) offers investors a fixed annual return paid half yearly to
Bondholders. SMATS Yield Investments Pty Ltd (the Company) will issue Bonds to raise AU$10,000,000 from accredited investors. Funds raised from the Bond will be used by the Company to invest in credit opportunities within the Australian property market, which are only accessible via SMATS Group and Griffin Projects Group (collectively, referred to as the Group) with a small allocation to liquid investments. Bonds will offer a fixed rate annual Coupon payment to investors of 6.5% p.a. paid quarterly in arrears.
SERIES 1 - AU$10,000,000 - 6.5%p.a. PAID QUARTERLY IN ARREARS - BONDS DUE 2024
Bond Features
Issuer: Bond issued by SMATS Yield Investments Pty Ltd (ACN 624 084 466)
Coupon: Fixed rate coupon payment of 6.5% per annum
Bond Term: 4 Years
Security: Bonds are unsecured obligations of the Issuer that rank before shareholders
Coupon Payments: Paid quarterly in arrears
Bond Holders Fees: Nil
Early Redemptions: Based on Director discretion & no fee payable
Eligibility: Accredited Investors only
Bond Face Value: AU$10,000
Minimum Investment: AU$50,000
Maximum Bond Issue: AU$10,000,000
Minimum Bond Issue: AU $1,000,000

Company Portfolio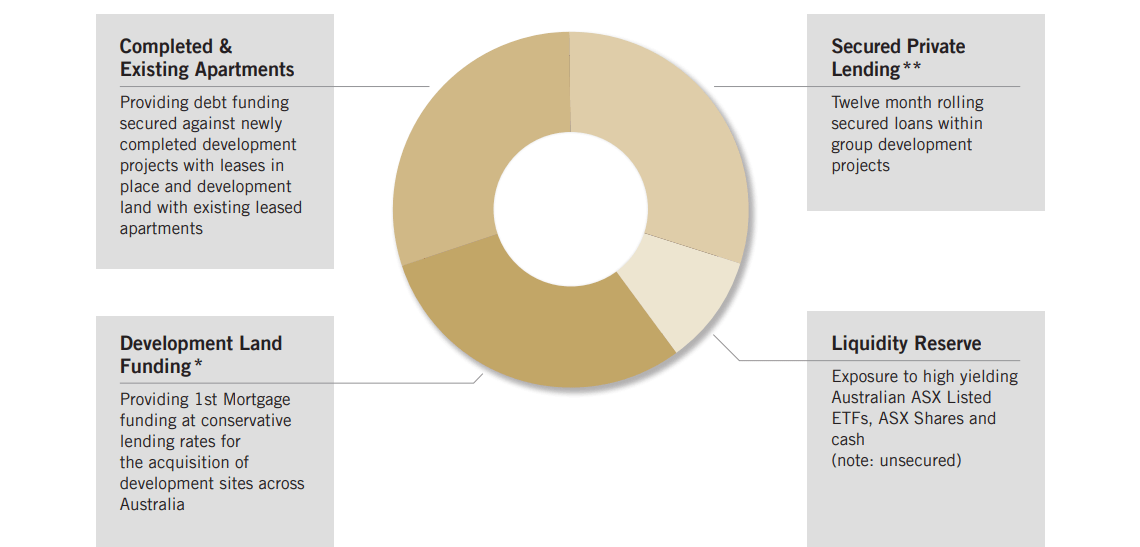 Target Company Portfolio Allocation
Register your interest today