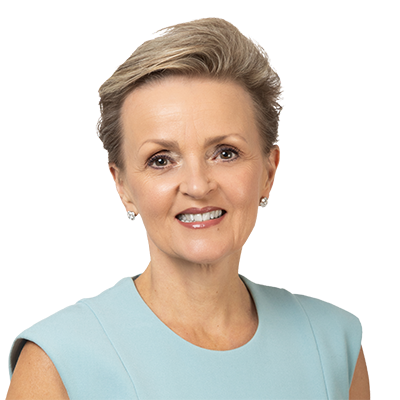 Helen Avis
Director of Finance
Helen Avis has held the position of Director of Finance for Specialist Mortgage since 2003.
She is one of Australia's leading Finance Brokers, having been recognised as the Mortgage & Finance Association of Australia's Residential Finance Broker National Winner and State Winner for 2022, in addition to numerous other state and national awards.
Helen is responsible for managing her own client portfolio, in addition to supervising her mortgage broking and processing team and managing Specialist Mortgage's international business operations.
Helen has successfully completed her Diploma of Financial Services (Finance/ Mortgage Broking Management) and is a member of the MFAA as well as being the Licence Holder under the ASIC Australian Credit Licence for Specialist Mortgage.
Helen holds formal accreditation with most of Australia's leading lending institutions in addition to specialist lenders providing mortgage solutions for expatriates and non-residents.
Helen has extensive lending experience and has been involved in the Mortgage industry since 1989 when she became licenced under the UK FSA, as a Mortgage Broker and Financial Planner. Prior to this she was a Fund Manager for UK Equities for John Hancock International.
She successfully operated her own business working throughout Europe, advising clients on Finance and Mortgages, until 2002 when she was recruited to relocate to Singapore. Soon after, she decided to concentrate on the mortgage aspect of her profession and took up a position with Specialist Mortgage where she remains today.
---
Helen Avis did a really outstanding job pushing our formal approval through in 4 days. She was also very helpful in advising me of the risks around unconditional vs conditional exchange which was much appreciated.
Dom & Yvette, Singapore
We have now used Helen Avis twice in procuring suitable Home Loans for our two investment properties. Helen and the team at SMATS have a deep understanding of the nuances of being an Australian Expat and we have always had great advice, high value offers and top notch service from her and the team.
Jacqui, Dubai
Helen's intimate knowledge of the market and pricing of various loans (investment, owner occupier, interest only etc) has made loan selection a breeze and enabled us to have confidence in our decision making.
Greg, Queensland
---
AWARDS
Finance Broker Business Award National Finalist - MFAA Excellence Awards 2023
Finance Broker Business Award WA Winner – MFAA Excellence Awards 2023
Helen Avis - Best Customer Service (Individual) WA Finalist - MFAA Excellence Awards 2023
Helen Avis - Best Customer Service (Individual) WA Winner - The Advisor Better Business Awards 2023
Helen Avis – Residential Broker of the Year WA Finalist - The Advisor Better Business Awards 2023
Best Customer Service (Office) WA Finalist - The Advisor Better Business Awards 2023
Brokerage of the year (6-20 staff) Awardee – Australian Mortgage Awards 2022
Helen Avis - Broker of the Year Specialist Lending Awardee - Australian Mortgage Awards 2022
Helen Avis - Mortgage Broker of the Year Finalist - Women in Finance Awards 2022
Helen Avis - Residential Finance Broker National Winner - MFAA Excellence Awards 2022
Helen Avis - Residential Finance Broker State Winner WA - MFAA Excellence Awards 2022
Finance Broker Business Award Finalist WA - MFAA Excellence Awards 2022
Helen Avis – National Residential Broker Finalist – The Advisor Better Business Awards 2022
Helen Avis - Best Residential Broker Finalist WA - The Advisor Better Business Awards 2022
Bridget Bowman - WA Broker of the Year Finalist - Specialist Finance Group Awards 2022
Bridget Bowman - Top 50 Loan Writers - Specialist Finance Group 2022
Helen Avis - Top 100 Mortgage Broker Award - Mortgage Professional Australia 2021
WA Brokerage of the Year Finalist - Specialist Finance Group Awards 2022
Helen Avis - WA Broker of the Year Winner - Specialist Finance Group Awards 2021 - 2022
Helen Avis - National Broker of the Year for Residential Lending - Specialist Finance Group Awards 2021
International Brokerage of the Year - Specialist Finance Group Awards 2016-2019
Helen Avis - International Broker of the Year - Specialist Finance Group Awards 2016-2019
Helen Avis - Flame Foundation Member St George Bank
Helen Avis - ANZ premium Broker
Helen Avis - Top Flame Broker St George Bank 2013-2014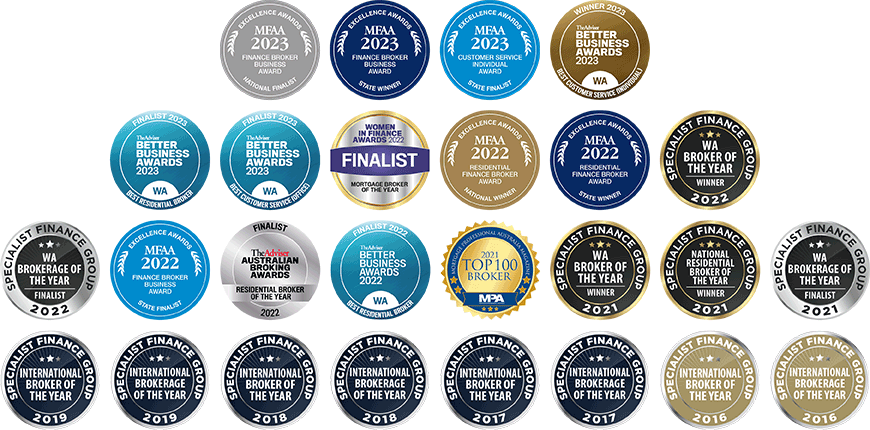 Back
Contact Us