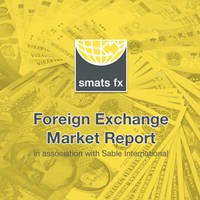 SMATS FX is proud to provide our weekly analysis of currency markets and exchange rates.
USD

It was a volatile week for the Greenback last week, but it was able to finish in the green thanks to risk aversion and the hopes of a smooth Presidential transition. With Joe Biden's inauguration scheduled for Wednesday, the USD is likely to be under pressure. The increase in housing starts for December should fall from 1.2% to 0.2%. COVID-19 cases and vaccination rollouts are likely to drive the US Dollar's price this week along with what we hope to be a smooth inauguration for the President elect.

Influences on HKD, SGD & AED

Hong Kong's unemployment rate is due out on Tuesday, December's figure should rise from 6.3% to 6.5%. Then on Thursday, the inflation rate is due out on Thursday, year-on-year it has dropped by 1.2% in December. Finally on Friday, business confidence in Hong Kong should rise from -8 to -1 for the 1st quarter. Singapore don't have much in terms of local data, thus the rate will be driven in-line with Dollar movements.

AUD

Without any catalysts out of Australia last week, global risk aversion was the main driver for the Aussie Dollar but rising Coronavirus cases and increased possibility of a lockdown pushed the AUD into the red for the week. It looks like it will be a busy week for the Aussies this week as we expect an increase of 40 000 jobs in January while the unemployment rate could rise to 7%. On Friday, the retail sales figures for November should fall by 3% after climbing 7% in October. On Monday morning, China will be dropping a load of data reports which should impact the AUD as China is the biggest trading partner with Australia.

NZD

Risk aversion drove the NZD down last week despite their positive economic updates. Quarterly CPI is due out on Thursday, it is expected to check in at 0.5% in the 4th quarter of last year, while the annual prices should slow down from 1.4% to 1.1%. The NZIER business confidence should improve from -40 to -30 in the final quarter of last year while the BusinessNZ manufacturing index should fall from 55.3 to 53.7.

EUR

Growing expectations of further lockdowns forced the Euro to take the bottom spot out of the majors last week. Signs of a mutated virus is also putting pressure on the Euro and should keep a lid on its gains throughout this week. This week, the ECB will be making its monetary policy decision on Thursday, no rate changes are expected but we expect some remarks on the Euro appreciation from the head of the European Central Bank, Christine Lagard. ZEW economic sentiment for Germany, should rise from 55.0 to 55.1 in January while the Eurozone figure should dip from 54.4 to 54.1.

GBP

The Pound Sterling rallied last week following Bank of England Governor Bailey's comments on negative interest rates despite the possibility of tighter lockdown restrictions in the future. A few mid-tier reports out of the UK in the second half of the week is likely to slightly impact the rates, CPI is expected to improve from 0.3% to 0.5% in December on Wednesday, then on Friday, the retail sales for December is expected to rebound to 0.8% following a 3.8% decline in November. PMI readings are also due out for the UK this week, manufacturing PMI is expected to drop from 57.5 to 53.1 while the services PMI should drop from 49.4 to 45.4.
 Transfer your money internationally with ease at our special VIP rates at SMATS FX: http://www.smats.net/currency/