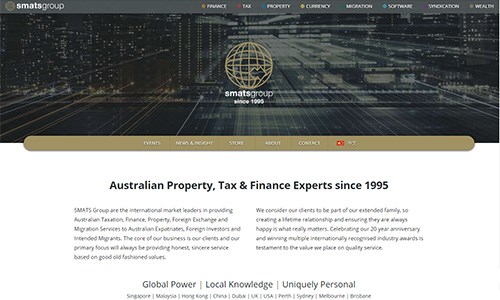 Building a multi-national corporation with multi-services is a real challenge, however when you also want to do it with great value cost and high touch capacity then you need terrific technology.
Many people don't realise SMATS has our own technology division, Empire Software, that builds the operating systems that allow us to operate with maximum efficiency to keep our costs to customers down.  This allowed us to increase our international tax service fees only once in our 24 year history.
For the past 3 years, we have been building our new platform, CompleteEmpire, which we have launched with a fresh new website look this January.  Initially there won't be many changes to how our clients see things as the first stage is in our back end administration.
However, in the near future you will see some key access allowing you to track your activity with SMATS.
CompleteEmpire is the first full CRM system that fully integrates multi-service process management with a suite of efficiency creating activities including communication & event management.  We will also be looking to offer the system to other businesses and property developers to improve their operations and hopefully make their operations more cost effective to allow efficiency to be passed on to customers or improve their viability.
We are genuinely excited at what we have created and look forward to continually improving the online experience for our clients.
With our new technology, you can now chose to subscribe or unsubscribe to specific areas of interest so that your contact from us is limited to those areas.
Please take the time to visit the new www.smats.net and www.aussieproperty.com websites as we would love to hear your feedback on the changes.